1) Continue to bombard Colnbrook and complain! Mention the death of Khalid Shahzad murdered at the hands of Colnbrook just 2 weeks ago!
You will need to quote Raul's Home Office reference number A1359895 and his detainee number 6139202 as they may have him in the system under a different name
Raul has been on hunger strike for nearly a week had has not had any medical attention in the last 2 days! Colnbrook have informed us that all detainees see a doctor each day, but Raul informed us this lunchtime that he last saw a nurse on Monday, has never seen a doctor during his stay and certainly hasn't seen any medical assistants in the last 2 days. Colnbrook are lying to us on this and we must expose them! In addition, Colnbrook has been at the centre of a controversy in a report in the Guardian on Sunday.
Khalid Shahzad was deemed unfit to be detained and hours after been released he died. This happened just two weeks ago in Colnbrook. Their treatment of asylum seekers is inhumane and deadly, Raul must be released into proper medical attention! Not detained or deported! Make sure you reference the article and the death of Khalid Shahzad when phoning Colnbrook. This treatment and torture is happening on a day to day basis and the previous Labour government boasted of deporting one person every 8 minutes!
Colnbrook contact numbers:
Then press 310 (healthcare)
Then press 354 (UKBA staff in Colnbrook)
We have been informed that

Medical Justice 02075617498

will take a complaint regarding the health of a refugee.
2) Continue to bombard Kenya Airlines

with this information and mention the death of Khalid Shahzad. Raul has been on hunger strike for a week and is in no fit state to travel. Below is a draft text for an airline fax and complaints form which people can use and add to if necessary.
The Kenya Airlines phone desk is refused to speak to anyone about Raul's case currently. So one idea is to fill out the customer complaints form first (you could use the information from the model fax below) then phone up to see if they have got it and request to speak to someone about the formal complaint you have just made.
Central Office: 020 8283 1800
Heathrow Office: 020 8759 7366
Passenger reservations: 020 8283 1818
Re: flight KQ101 from Heathrow Wednesday 17th, 8pm.
I am writing to ask that you do not accept the commission from UKBA to deport Raul Ally (Home office reference number A1359895 Detainee number 6139202) on tonight's flight KQ101 8pm from Heathrow, Wednesday 17th April.
Raul is 18 years old and has lived in the north east of England since he came here from Somalia, when he was 12. UKBA is trying to deport him against his will to Tanzania

–

a country he has never been to and has no connection to. He is currently in Colnbrook immigration removal centre, where he is on hunger strike in protest against his detention and this planned deportation.
I believe that deporting Raul breaches both his right to family life (ECHR Article 8) and right to a fair trial (Article 6), as he still has an outstanding legal challenge to his deportation. Raul has been on hunger strike for nearly a week and is unfit to travel. I would like to draw your attention to the Guardian article 'Asylum seeker death investigated by Home Office amid healthcare concerns' published on 14 April 2013. It details the case of
Khalid Shahzad who
was deemed unfit to be detained and hours after been released he died. This happened just two weeks ago in Colnbrook, the same immigration prison that has been holding Raul Ally. I am concerned that Raul Ally's life is similarly under threat following his incarceration in Colnbrook. I am sure that Kenya Airlines do not want a controversy such as this to undermine their public image.
Please confirm that you will refuse to carry Raul on this flight.
3) Share the press coverage:
From the Chronicle 16 April 2013
North East teen faces deportation
A teenage refugee who has made the North East his home for six years fears he could be deported tomorrow to a country he's never been to.
Raul Ally moved to Newcastle with his mum when he was 12, fleeing war-torn Somalia following the death of his dad in a political protest.
He built a new life in Benton – attending schools in Gateshead, where he achieved a clutch of GCSEs and A-levels, and playing for local football teams.
Raul had even successfully applied to start a degree in sports coaching at Sunderland University this September.
However, now aged 18, he is currently being held at Colnbrook Immigration Removal Centre in Berkshire and has been told he could be deported as early as tomorrow.
Raul, who has begun a hunger strike, has also been informed he could be sent to Tanzania – a country he has never lived in and where he has no friends, no family and no prospects.
Yesterday, members of Tyneside Community Action Against Racism (TCAR) staged a protest at Grey's Monument in Newcastle to raise awareness of Raul's plight.
TCAR claims a judicial review into Raul's case is yet to be concluded, which would make deportation at this stage illegal. Spokeswoman for the campaign group, Dionne Smith, said: "Raul came here when he was just a boy; he's still a boy and he's scared.
"Sending him to Tanzania, which has a completely different culture and language than Somalia, and where he knows no one, means he would have no way of any hope. The North East is his home. He has friends here, he has a life and he has a chance of a positive future."
TCAR has written to Newcastle Central MP and shadow cabinet office minister Chi Onwurah, asking for her assistance.
A spokesman for Ms Onwurah said the MP has personally written to the Home Office to find out more about Raul's situation.
Raul was detained by the UK Border Agency on April 10. Last summer, he was held for two months at Morton Hall IRC in Lincolnshire, but was released.
Since then, he had been attending the Immigration Reporting Centre in North Shields every week and never missed an appointment.
In a written statement, Raul said: "There are people who are locked up who end up in a bad mental state because of all of the stress and not knowing what is going to happen to them. We need to continue fighting; we can't let them get away with this."
A press officer for the Home Office said it "could not comment on ongoing cases"
From the Guardian 14 April
Asylum seeker death investigated by Home Office
amid healthcare concerns- by Eric Allison
Khalid Shahzad, 52, died alone on train hours after release from Colnbrook removal centre after being deemed unfit for detention.
The Home Office has launched an investigation into the case of an asylum seeker who died within hours of being discharged from an immigration removal centre (IRC) where he had been held for three months.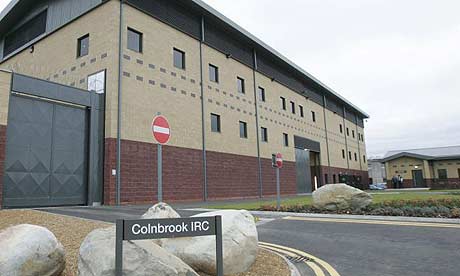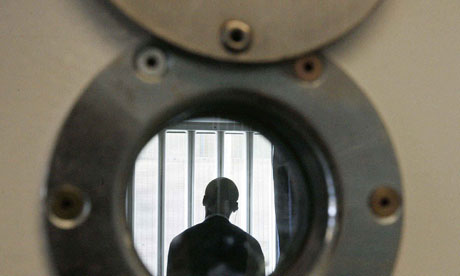 The day before Khalid Shahzad, 52, was released he had collapsed and was judged unfit to be detained because of his poor health, but officials at Colnbrook IRC decided to let him travel unaccompanied. He died en route from Euston station to Manchester on 30 March.
The Pakistani national had been held at the centre, which is near Heathrow airport and operated by Serco. He had been issued with removal directions to Pakistan.
The Guardian has learned Shahzad suffered cardiac problems and had an artificial heart valve fitted prior to his arrest. He collapsed twice at the centre and was taken to hospital. Detainees at Colnbrook say he was told he did not have long to live.
On the day of his death he was discharged from custody after being deemed unfit for detention. He was given a travel warrant and travelled alone to Euston station where he boarded a train for Manchester. British transport police were called to the train at Wilmslow, Cheshire, where he was pronounced dead.
The Guardian has spoken to detainees at Colnbrook. One said Shahzad suffered from constant breathing difficulties during his time at the centre.
Deborah Coles, co-director of the Inquest campaign group said the death of a critically ill man, alone on a train, only hours after being discharged as unfit to be detained, suggested an abdication of Serco's responsibility for his welfare.
"The circumstances of this death and the wider concerns about the quality and standards of healthcare for immigration detainees at Colnbrook – criticised by an inquest jury only last year – must be thoroughly scrutinised, both by the prisons and probation ombudsman and an inquest jury," she said.
The Home Office said: "We will provide specialist support to individuals being released from detention if recommended by healthcare professionals. An investigation into this case is under way and it would be inappropriate to comment further."
Serco said: "Mr Shahzad was discharged on Saturday March 30 from Colnbrook immigration removal centre. Tragically, he was found dead later that day on a train to Manchester and our thoughts are with his family. An investigation is being carried out and there will be an inquest into his death."